E-commerce – Why Your Business Should be Online
The brick and mortar retail store vs online retail store debate has been around for quite some time, and the Coronavirus pandemic has added a new dimension to it. Online retail sales are at an all-time high and are set to grow. While its certainly not the end of brick and mortar stores, online sales have come a long way from being 'just a fad' and are rising at a steady pace. The COVID situation is here to stay for some time and has taught us a new way of life that is expected to become the norm in the next few years.
So, let's see why your business should be online and how it will make a difference in your business performance and growth, even post- pandemic.
Heading- According to Statistics
By 2040, 95% of sales are expected through online purchases
Nearly 60% of in-store purchases are influenced by e-commerce
Nearly 50% of global customers say that they will continue with online purchases even after lockdown has eased.
Nearly 20% of customers say that they would buy a vehicle online if there was an option to do so.
The global retail sector is set to sustain a loss of $2.1 trillion in 2020.
Multichannel retailers outperform online-only stores with total sales growth of 53% (nearly 80% growth in their online sales) vs 10% respectively during May 2020.
An interesting note – traditional retailers like Target and Myer provide online sales too. And online retailers are opening up brick and mortar stores or pop up stores in response. Successful retailers are moving towards using both modes of sales.
E-commerce vs Retail – A Comparison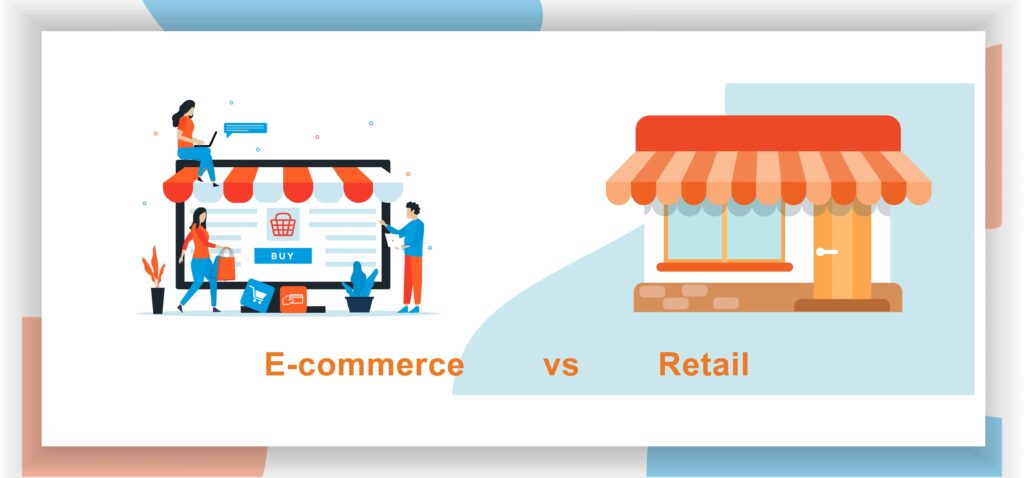 Shopping Experience for a Customer
Let us see how the shopping experience differs for a customer at a brick & mortar vs an online store.
E-commerce: Images, videos, and descriptions for product information
Retail: Physical interaction with a product
At a brick-and-mortar store, buyers can physically interact with a product to determine if it fits their requirements. It helps in making a faster buying decision.
With e-commerce stores, physical product interaction is not available. However, customers can learn about products with high-quality images, videos, and product descriptions. With evolving technology, there are many interactive options like 360-degree views and virtual try-on, for a full product interaction.
E-commerce: Speak or chat with human customer service representatives during customer service hours or chatbots after hours
Retail: Communicate face-to-face with an employee
At retail stores, you can talk to a service representative face to face and get instant answers.
E-commerce websites have great service options too. Customer interaction is available 24 hours, with some companies having shifts of employees working around the clock. Many companies have chatbots to answer basic questions after service hours.
E-commerce: Shop 24/7
Retail: Shop only during store hours
This is one of the greatest advantages that e-commerce retailers have over traditional brick and mortar stores. At retail stores, customers can only shop during store hours. The sales time window is limited to your store hours.
With e-commerce, customers can shop online anytime, according to their convenience. All they need is an internet connection and a computer or mobile.
E-commerce: Buy products from anywhere.
Retail: Need to travel to the store.
This is another advantage that e-commerce retailers have over traditional stores. Even before the current COVID situation, the need for travel to a shop could turn a buying decision from retail store to an online store.
Customers will look for maximum convenience, and online purchases give them the comfort of shopping from their internet connected devices within the comfort and safety of their own homes.
E-commerce: Easy search for required products
Retail: Time-consuming and may need assistance from service representatives to find products.
Again, e-commerce scores over retail stores when it comes to searching for a product. At a retail store, customers have to search through aisles to find what they need, or may need the assistance of customer service personnel.
With e-commerce websites, customers can easily type a product name into the search bar and find what they need quickly. With customizations and advanced technology, it is possible to streamline searches further for online stores.
E-commerce: Fast product comparisons with technology
Retail: Product comparison takes time
At retail stores, customers need to physically inspect products to make a comparison of prices or specifications. Also, some products may have different brands available at different shops.
With e-commerce, online stores provide an easy comparison of product prices and specifications. Also, you can easily make comparisons from different sellers. The flip side is customers may abandon the product cart, if they find a better product than what you offer.
E-commerce: Fast shopping
Retail: Shopping time is more
E-commerce has a faster shopping experience than retail outlets since customers don't need to travel, and can search for a product faster, and make easier comparisons.
E-commerce: Needs time for a product to arrive
Retail: Immediate possession
At retails stores, customers can take immediate possession of a product, unless they have placed an order for an out-of-stock item.
With e-commerce, the product needs to be shipped and takes time to arrive.
E-commerce giants like Amazon and Target do offer two-day shipping for fast delivery of products. Many online retailers also have local warehouses for popular products to get products to consumers as fast as possible. Many customers prefer to wait for a product to arrive as a trade-off for a fast shopping process.
Why should your business be online?

From the above comparison, it's easy to see why more and more business owners are making their businesses digitalised. To explain it briefly, e-commerce is much more adaptive and comfortable for customers as they are provided with unlimited options within the comfort of their homes and their devices. Let us take a deeper dive into why you should digitalise your business.
1. Increase brand recognition
When you start a retail shop, your brand is often limited to a locality. However, cyberspace has no boundaries. Through websites and social media, you'll be able to build up your brand's recognition and reputation. Not only will it be easier for customers to discover your brand, but it'll also be easier for you to reach out to them and maintain steady communication.
2. Competition
There's a high chance that most of your competitors have an established online presence. Especially during a pandemic, if potential customers fail to find your products, they could end up investing their time and money in your competitors. In this digital era, not having an online footing will affect your business negatively and affect your place in the niche competition.
3. Lower Overheads
Lower overheads is a huge advantage that e-commerce companies have over retail stores. Rent, utilities, and personnel costs are higher for retail stores. Sure, as an online store expands, the employee number needs to increase; but an e-commerce business owner does not need to invest in commercial space and associated costs for expanding an online business.
4. Customised User Experience
A shopper's online activity helps to form an idea about the shopper's preferences. An online store allows for giving a customised experience according to the shopper according to this data. A customised experience helps in faster sales and easy conversion of a visitor into a buyer.
A retail store can be set only in one way, considering the general convenience of shoppers.
5. Ease of Scaling Up and Down
Drop-shipping allows a retailer to scale up or down sales easily. Also, expanding or narrowing down a product list is easier; you just need to tweak your product list on the site. This is especially useful during the holiday season when sales go up rapidly and come down fast after the season. In a retail store, you need to physically expand or discard products and space to scale up or down.
6. Tracking a Customer's Journey and Gather Information
With e-commerce, online tools can easily track the customer's journey and also gather customer information. This helps in setting up a huge database of useful customer behaviour information. You can gain insight into which products are doing well, at what point cart abandonment happens, and where you need to improve the user experience to increase conversions and sales.
At a retail store, it is not easy to ask for email or phone number directly from a customer. A lucky draw coupon or similar offers can help you get phone no or email, but beyond that, customers will be unwilling to part with information. You need expensive surveys or consultants to analyse customer behaviour.
7. Sales Happen 24/7
A major advantage that online businesses have over retail stores is that sales can happen anytime, anywhere. Customers can make a purchase online from the comforts of their homes at any time of the day. This gives online stores a sales window of 24/7. Retail stores, on the other hand, have fixed working hours after which sales are not possible.
8. Shopping Experience for Customers
E-commerce allows customers to do shopping in a relaxed atmosphere with no rushing. A customised and easy shopping experience for customers means more sales, more customers come back, and more profits.
9. Increase the efficiency of your marketing
A well-optimised e-commerce website, a good email marketing strategy and clever social media handling will do wonders for your sales. Digital marketing takes your "local" business and expands it to a global level. The effort and money you put into digital marketing will bring in more customers and boost your business statistics.
Now that you have seen the advantages of an online business and how expanding online can bring you more revenue, you need to invest in a good e-commerce site.
Here are some quick tips to start on an e-commerce site
1. Decide on the Domain, E-commerce, and Hosting Platforms
Decide whether you want to buy your own domain. Either way, you also need to find a good hosting provider at the outset. If you decide to purchase a domain name, go for one that fits your brand. Decide on the e-commerce platform you want to use. The most popular e-commerce platforms are WooCommerce and Shopify. Choose a good hosting plan that aligns with your business requirements, and you'll be done with step one.
2. Find the Right Theme
A customer will form the first impression of your brand from the way your site looks and performs. So, select a theme that matches your business personality. Avoid cluttering and ensure the website is easy to navigate through and that the CTA is easy to spot. Simple, aesthetic, functional websites are always more effective.
3. Ensure Your Site is SEO Ready
Just having a good-looking e-commerce website is not enough to attract more customers. When a customer searches for products, your brand should come up in the results. You must invest in a good SEO strategy to ensure that you rank in relevant queries. By increasing your SERP rankings, you'll gain more visitors and achieve higher conversions to sales. Also, ensure your e-commerce site is mobile optimised. If it is not, both Google and potential customers will steer away from your brand.
4. Get Some Groundwork Done Before the Launch
Before you make the actual launch, make sure that you have covered all the basic groundwork. Do proper advertising through social media so that you can begin with a bang. Social media engagement is crucial before and after the launch of the website. More engagement equals more traffic for the site. Check with the developers and get the guarantee that the site is fully equipped to function before doing the launch.
5. Test Thoroughly
Test thoroughly every aspect of your e-commerce site before going live. Do an actual transaction from a customer's perspective. Continue testing during and after the launch to find pain areas for the customer and set them right. Read through all the content you're about to publish and ensure there are no spelling mistakes or major grammar mistakes. Check for layout shifts, missing content, brand identifications, etc. Do tests across all devices and make sure the site is well -optimised.
6. Get Professional Help
Efficiency comes with experience. While there are ready themes available that would make website designing seem like an easy task, it is a good idea to get experts in e-commerce sites to do the actual heavy lifting for you. This is crucial to ensure that your online store is in perfect working condition. While the experts build a professional site for you, you can focus on the core aspects of your business.
Now you know why your business should be online and why it's inevitable in this digital era. Are you looking to take your retail business to the next level with an e-commerce store? Contact us today or email at sales@computingaustralia.group and talk to our e-commerce websites experts in Perth.
Jargon Buster
Layout shift – Is when a visible element on a webpage changes its position or size
Domain – In simple terms, it is the address of your website on the Internet.
Web hosting – Is an online service that enables you to publish a website by allocating space on a web server for a website to store its files.
E-commerce platform –Is a software that allows online business owners to manage their sales operations.
Updated on 22/07/2021
Updated by Silpa Danish
Updated section on Why should your business be online?, expanded section on Quick tips to start on an e-commerce site, added Jargon Buster.