How to use Hashtags – The Complete Guide to Hashtags
Open any social media platform and there they are – hashtags. Most of us use them liberally in our tweets and posts. But do we really understand why they are used? Are we aware of how the right hashtags can help businesses?
Read on to discover some interesting facts about hashtags. By the end of this complete guide to hashtags, you will be a pro in using them across the most popular social media platforms to improve your brand awareness.
So, let's get started.
Defining hashtags
When a single word or a group of words featured in online content is led by the pound symbol (#), it is termed a hashtag. So, if you need to create a hashtag, all you need to do is type in something after the # symbol and you are done. The purpose behind a hashtag is to group similar content related to a particular term.
The practice began in 2007 when Twitter started using hashtags to categorise content based on keywords for easy access. Soon, it was adopted by major social media platforms to help users easily locate content related to a specific topic.
Why should you use hashtags?
When you need to follow breaking news or trending topics or topics related to your industry closely, hashtags can quickly guide you to the most updated feed. If you need to find content on 'digital marketing', just type in the hashtag on Instagram, Facebook or Twitter and you will immediately be redirected to trending content on the topic.
The same goes for your readers and customers. Share a relevant hashtag with your posts and pictures so that people searching for the hashtag can discover your services or engage with your content.
Another thing to note is 'Less is more' when it comes to captions on social media platforms. Hashtags are an easy way to put across your message in addition to your post captions.
How do hashtags help businesses?
Tech-savvy businesses use hashtags to enhance the visibility of their promotions, start conversations about products and attract targeted traffic. This, in turn, leads to better conversions and profits.
Traditional promotions required businesses to reach out to their potential customers. Hashtags help customers to find you instead! By simply keying in a hashtag related to a particular product or service, users from across the globe can now discover your company. This makes a lot of difference, especially when you consider the fierce competition out there.
How to use hashtags the right way

Using a random phrase as a hashtag will not help to achieve the desired results. Here's how you can use hashtags to your advantage:
Do not use spaces in hashtags if your term features more than one word. Also, do not use punctuation marks and special characters as these break your hashtagged word.
Keep your hashtag as concise and unique as possible with a relevant reference to your content, promotion, service or product.
If your hashtag has multiple words, make it easier to identify each word by capitalising the first letter of each word. For instance, #SEOAgencyInPerth is definitely more readable than #seoagencyinperth
If your account is a private one, non-followers will be unable to view your hashtagged posts.
Do a bit of research to discover what hashtags are used by other brands in your industry and come up with something different to stand out from the crowd.
Experiment with creative hashtags that will create a hype about your brand and probably go viral if utilised well.
Do not use the same hashtags across all platforms. For instance, a quirky hashtag may be well received on Instagram or Twitter but can seem out of place on professional networking channels such as LinkedIn.
Practice moderation while using hashtags in your social media accounts – 2-3 work well for most platforms. Aim to keep the number of hashtags under five to avoid being categorised as spam.
How to find the best hashtags?
Here are 4 tips to get you started on finding the right hashtags for your niche:
1. Follow competitors and make a note of the hashtags they use, how many hashtags they include in every post and so on.
2. Follow thought leaders and influencers in your industry to see the hashtags that get shared the most.
3. Get trending hashtags with hashtag tools. They can help generate the right hashtags to match your content and enhance your visibility instantly.
4. Related hashtags are more specific than general hashtags and will help popularise your brand among more targeted traffic. You can get related hashtags on Instagram in the 'Explore' section. LinkedIn offers the 'Discover more hashtags' option to help you find related hashtags.
Best Hashtag Tools
Here is our pick of the top hashtag tools
HashtagsForLikes – Very useful tool for Instagram and Twitter marketers. This tool generates data driven hashtags. The paid version has multiple features like saving hashtag sets for future use, analytics dashboard, automatic generator etc. Free version is also available for hashtag generation.
Hashtags – More than a hashtag tool, it provides useful analytics on hashtags with the paid plans. The free version is also quite useful with recent tweets, 24-hr trend graph, prolific users and related hashtags for a particular keyword.
Ritetag – Instant hashtag suggestions for images and text, from browser extensions or mobile apps based on real time hashtag engagement. The tool also lets you research and save hashtag sets. 7-day free trial available before purchase.
Tagdef – When you search for a hashtag, you get the definition of a hashtag in addition to a list of related hashtags. You also get a list of the most popular hashtags.
Hashtagify – Very useful for Twitter hashtags. With this tool you can get a list of all trending hashtags related to a particular keyword.
It is necessary to remember that no number of hashtags will make a difference if the quality of your content does not meet customer expectations. Stuffing keywords into hashtags does not work either. You will need to focus on hashtags that are interesting, unique, clearly convey a message and is relevant to your specific niche. Add these hashtags in moderation along with your posts, promotions or campaigns to garner better engagement. And do keep a tab on which hashtags seem to be working for you by tracking the improvement in responses, visits or reposts after using them. Need professionals to create share-worthy content for your business? We're just a click away! Contact us for a no-obligation chat. #CAGforYou
Jargon Buster
Spam – Unnecessary, irrelevant or repetitive content or bulk messages that clutter social media feeds.
Caption – Here, a small description that usually accompanies an image or video on social media platforms.
Conversions – Here, the process of converting a lead into a sales transaction or new customer.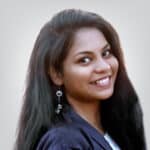 Vaikhari A