5 Min Helpdesk – How to Find your Wi-Fi Password on Different Devices
Do you need to add a new device to your Wi-Fi network but can't remember its password? A few simple steps can help you find the passwords of your Wi-Fi network. But first –
Have you changed the default password on the router?
If not, check the router and look for the SSID. This is the wireless network name and will usually have the password with it. You can also check the product information booklet for the password. Our IT technicians always recommend changing the manufacturer's default password for security purposes. So, if you haven't done it yet, it will be a good idea to do it right now.
Now let us see how to find your Wi-Fi password on different devices if you've already changed the default password.
Windows PC
If your Windows PC has been connected to your Wi-Fi network, it is easy to recover the Wi-Fi password.
1. Open Network and Sharing Center
For Windows 7 or 8, search for Network and select Network and Sharing Center.
For Windows 10, click on the Start button. Select Settings > Network & Internet > Status > Network and Sharing Center.
For Windows 11, click on the Start button. Select Control Panel > Network and Internet > Network and Sharing Center.
2. In the Network Sharing Center, you can see the connected Wi-Fi name next to Connections. Click on the Wi-Fi name.
3. Go to Status >Wireless Properties.
4. Go to the Security tab. Your Wi-Fi network will show up along with the password in hidden characters.
5. Click on the 'Show Characters' option to reveal the plain password.
Mac OS PC/Macbook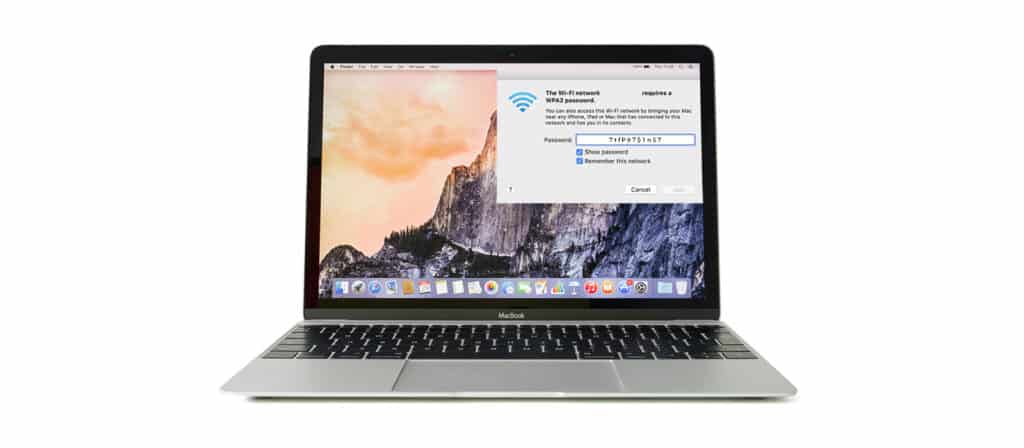 1. Connect the Mac to the Wi-Fi network
2. Press Command + Space. This will open the Spotlight search dialog.
3. Type Keychain Access and press Enter.
4. From the list displayed, find your Wi-Fi name and select it. Click on the information button (i) at the bottom of the window.
5. When the new window opens up, select the box beside 'Show password' to view your Wi-Fi password. You may sometimes have to provide your user ID and password in the final step to access the Wi-Fi password.
OEM/Pixel phones running Android 10 and higher
Smartphones from most OEMs (Original Equipment Manufacturers) in the Android One program run Android 10 and higher. You do not need separate apps to recover your Wi-Fi passwords on such devices.
All you need to do is try these steps:
1. Go to 'Settings' and open the 'Wi-Fi' option.
2. If you are connected to the Wi-Fi network, select the current network. Else, go to 'Saved networks' and choose your network.
3. Click on the 'Share' option right under the name of your Wi-Fi network.
4. If you have activated device security settings, you will need to verify yourself.
5. The password will be displayed in plain text just beneath the QR code.
Better ways to recall Wi-Fi password
Good news! There are ways to stop googling 'how to find your Wi-Fi password on different devices' every time you need the Wi-Fi password.
If you are not exactly very good at remembering passwords and fumble around for the right one most of the time, there are plenty of Password Manager apps to help you out. Once you save your password on these apps, you can access it across different devices that feature the app. You can also note down your password physically. But do ensure that you keep the notebook somewhere safe and not accessible to outsiders or casual visitors.
The easiest of all methods is to create a QR code. You just need to scan this when you log in. This is also a very convenient method when you need to share your Wi-Fi password with friends or guests.
We hope these steps will help you find your Wi-Fi password from any device. For more IT helpdesk tips, head to our blog.
Jargon Buster
SSID – Stands for Service Set Identifier and, in simple terms, is the name of a Wi-Fi network
Password Manager – A software application to create, store, recall and manage passwords online.
Wi-Fi router – An electronic device that acts as a wireless access point, turning the internet connection into a Wi-Fi signal.