Tips to Improve your Website's Conversion Rate Optimisation
Is your conversion rate not meeting expectations? It can be due to a number of reasons – wrong buyer persona, a lengthy form to fill, unoptimised CTA, bad UX and much more. Analyse your site, find the problem areas and fix them to improve your site's conversion rates. In this article, our Perth SEO team gives you useful tips to improve your conversion rate optimisation.
What is Conversion Rate Optimisation?
In simple terms, it is the process of optimising your website to increase conversion rates. It is necessary to note here that conversion does not always mean a confirmed sale. Any action from the side of a website visitor that contributes to growing your business can be termed a conversion. For example, for a lead capturing landing page, a conversion would be the customer filling in the details and submitting the lead capturing form.
How to improve your conversion rate optimisation
Customer acquisition makes all the difference between a struggling business and a successful one. That in itself is reason enough to concentrate your efforts on improving your conversion rate optimisation. With that in mind, let us take a look at some of the most powerful tips that go a long way in improving your CRO.
1. Create the right buyer persona
This is the first step in improving your conversion rates. If you are targeting the wrong customer base, a website with the best UX will not give you the expected CRs. Try to find answers to these questions to create a good buyer persona.
What is the age group you need to target?
What is the gender that your product or service is targeting?
What is the educational qualification of your target customer base?
What will be the purchasing power of the buyer persona?
What will be the interests of the buyer persona?
Where are they likely to search for your products or services?
2. Make it easy to fill out your submission forms
Your website may feature submission forms for various purposes such as product inquiry, restock notifications or newsletter signup. Make the process as easy as possible for your customers for a higher conversion rate.
Use these ways to keep your submission forms simple:
Make sure you have used proper HTML formatting.
Insert sample placeholder such as 'Your email address'
Keep the form short and retain just the most essential fields
Highlight the submission button
3. Empower your CTA content
How will you feel when faced with generic CTA (Call To Action) content such as 'Start now' or "Sign up here"? You are unlikely to actually make a move. Simply making this content more engaging and motivating can actually help improve your CRO.
Here are some tips to get you started:
Instead of 'Start now', try 'Yes. I want this free trial'
'Start growing your money' sounds more compelling than 'Free investment tips'
'Yes. Add me to (brand name) family' sounds better than 'Sign up'
Test different CTA copies and buttons and assess which ones get the most clicks. Employ recordings or heatmaps to know which CTAs are not working as expected and keep improving the CTA copy until the conversion rate improves.
4. Include reviews and testimonials
How likely are you to purchase a product that features no ratings or reviews? Very unlikely, right? This is exactly how your customers will perform when they come across products with no testimonials. You need to make an effort to collect feedback from past customers and include those on your website.
The process is easier than you expect. Interesting social media posts about your products, photos from users featuring your brand or positive reviews about your brand on various platforms can all be effectively utilised to influence your targeted traffic.
Use these tips to collect social proof:
Send out emails to customers requesting ratings and reviews
Launch contests on social media with a hashtag including your brand name
Every time you ship out physical products, include a thank you note in the confirmation mail or with the physical package
The more social proof you feature on your website, the better your conversion rate will be. After all, if website visitors are convinced that other people trust your brand, they will be impressed enough to buy from you.
5. Automate chats with chatbots

The significance of promptness in customer service cannot be stressed enough. Imagine how pleased your customers will be when they receive instant responses to their queries. This explains why chatbots are all the rage these days.
Adding a chatbot to your website enables you to provide website visitors with a range of functions that include:
Troubleshooting issues
Providing answers to FAQs
Recommending related products
Offering information about new offers
Encourage visitors to sign up for newsletters
These chatbots offer your website visitors an easy way to instantly connect with your brand. This is sure to make an impression and enhance your conversion rates. Browse around for various chatbot options and choose one that perfectly syncs with your business goals.
6. Improve Page Speed
A slow-loading page – and your visitor is more likely to bounce off than stay around for the page to load. Remove or modify elements that kill your site speed.
Here are a few things you can do
Use lazy loading for content
Optimise Images
Minify HTML, CSS and Javascript
Enable browser caching
7. Optimising eCommerce sites
A high conversion rate is necessary for the success of your eCommerce site. Check your cart abandonment rates and prioritise on a good UX. This is especially necessary for mobiles as most customers now use mobiles and tabs to browse and buy online than on desktops.
A few tips to optimise your eCommerce site for a better conversion rate –
Streamline the purchase process and reduce the steps from start to payment
Ensure the navigation is user-friendly
Ensure the search function is prominent and easy to use
Optimise for mobile
Follow up on abandoned carts
Optimising your Conversion Rate with the Experts
The tips on how to improve your conversion rate optimisation mentioned above are primarily designed to enhance user experience and convert more of your website visitors into customers. Rather than implementing all these tips at once, it would be a good idea to test those that are expected to make a positive impact. Remember that most of these tips also work well in improving the conversion rate in the mobile interface. If you are not sure what will work for your website, speak to a Computing Australia consultant for a website audit and conversion optimisation recommendations. Get in touch with us or email us at sales@computingaustralia.group.
Jargon Busters
Minify code: The process of removing unnecessary characters from source code without affecting its operation.
CTA: Call to action is a prompt, usually a button or highlighted text, guiding the visitor to take the next action. Examples – Buy now, Read now etc.
Chatbot: A software application that simulates and automates conversation between humans and businesses on a messaging platform.
Lead capture form: A form used to collect contact information from a customer, usually in exchange for an offer like discount coupons, e-books etc.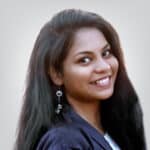 Vaikhari A