Google My Business Means Business
Google My Business is a free tool that helps business owners to manage their online presence across the Google suite of websites. This includes Google Search, Google Maps, Mobile Search, Local Search. It allows monitoring and replying to customer reviews, adding photos, learning where and how people are searching for you, and more. As the experts in Perth for local SEO, we know that Google My Business means business. In this article, we explain what the benefits of Google My Business are and why you should have a listing.

Google My Business – Why should you have a listing?
To understand what the benefits of Google My Business are and why you should have a listing, let's see how local searches work. When you are looking for a local business that'll repair your mobile, sell an event ticket or bake a unicorn-themed cake for your kid's birthday — how do you find it?
You google it or look into your favourite search engine for online research, of course.
Your customers also do the same. When they're looking for a repair service, restaurant or product similar to what your local business sells, they go online to find it.
Research shows that when people search for a product or service near them, they're usually very close to making a purchase. 50% of consumers who do a local search on their smartphone visit a store within a day. While 34% of consumers searched on a desktop computer or tablet.
A strong local SEO is essential to driving more people to your store, whether you have one or multiple storefronts. When you're getting started with local SEO, your Google My Business listing is the right place to begin your early efforts.
Consistent and accurate local listings are one of the factors Google considers when determining what sites to rank top in search results.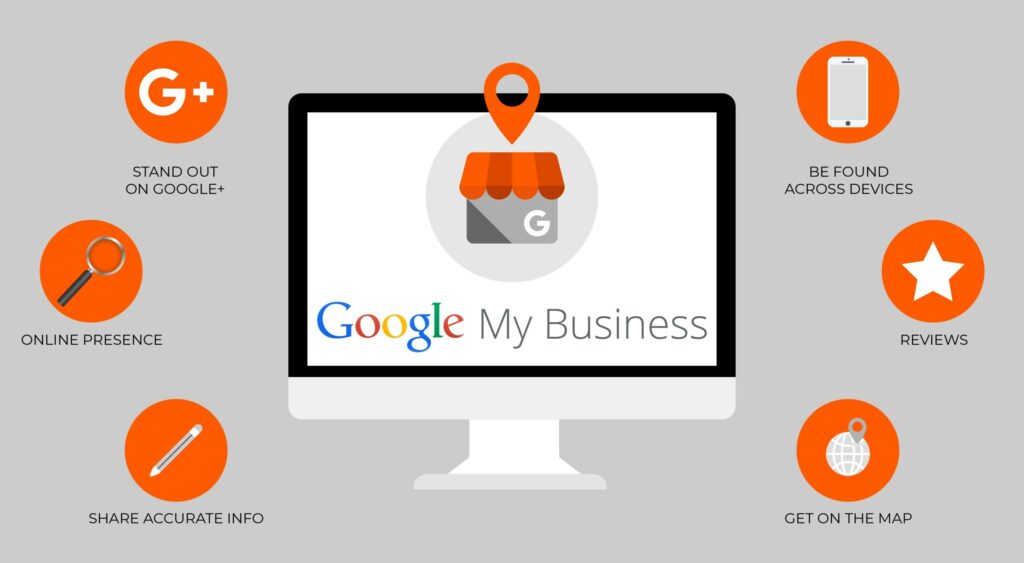 Benefits of Google My Business for SEO
GMB helps your local SEO in multiple ways. So, let's see what the benefits of Google My Business are.
Increased visibility
Most searchers have not made up their mind about a brand when they search for a product or service. For local search and map queries, GMB listings get priority on Google SERPs, sometimes above organic results. Add photos or videos of your products, services and shops. A business with high-quality images gets more website and physical shop visits than businesses that don't.
Display consistent information
As your business grows and expands, there can be changes to locations, numbers or timings. Updating the correct information in the GMB listing will ensure that customers have access to the right data. Also, many third-party applications pull your business information from Google. An accurate and updated GMB listing will ensure that your business data is represented consistently across platforms.
Be visible in Google Maps
Most local searches have a strong purchase intent and are looking for the best and easiest-to-reach business place. Google Maps is a useful and widely used tool to find businesses nearby. A GMB listing will make your shop or business appear in local searches and Google Maps.
Analysis of visitor behaviour
The 'Insights' section of your Google My Business page provides valuable information on your target customers, how they're engaging with your business, how many views your listing gets and much more. This is a wealth of information that give you insights into what is working and what is not.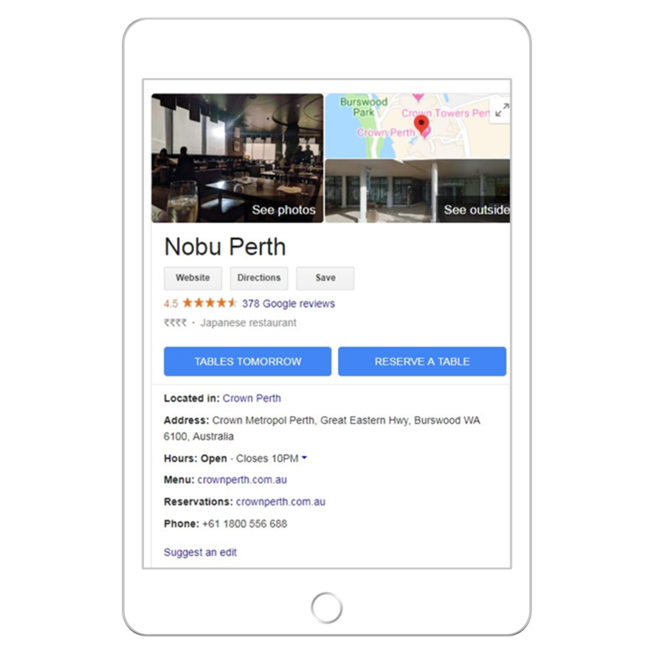 Increased interaction with customers
The Posts section in your GMB page lets you post items like Product updates and offers, events and other news, which leads to increased interactions with your customers. GMB also has options like Book an appointment or Reserve a table – customers can directly engage with your business in just a click.
Display ratings for your business
Online reviews influence buying decisions deeply. With a GMB listing, customers can review and rate your business easily. This helps you to get valuable feedback on what you are doing right (and wrong). The ratings are also displayed against your business in the search results.
Where and How to get started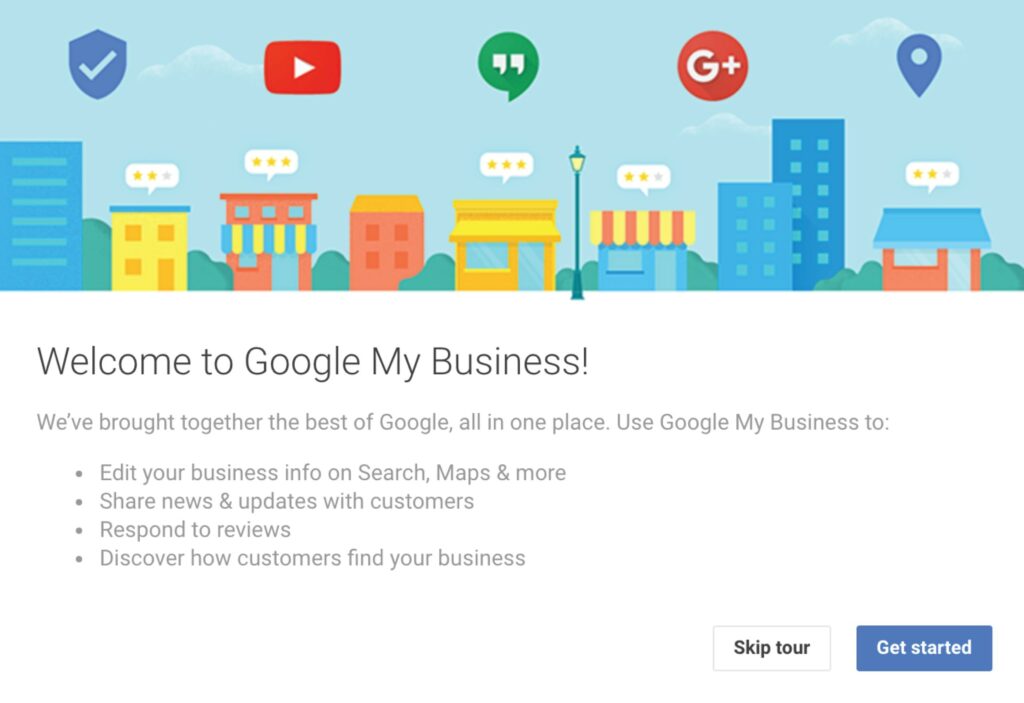 Setting up GMB is free – visit Google My Business, and click 'Start Now'. Create your Google My Business listing to provide readers with your NAP, store hours, unique store descriptions, parking/transit information, promotions, reviews from your customers and more.
Before you start using the GMB app, you should claim and verify your business on Google. Once you are logged in, you can scroll down the Home page to see the list of actions to manage your business information on Google. The Menu tab on the upper left corner gives the various options to optimally utilize your GMB account.
We list here some of the features that will help you manage your GMB account, attract more customers and optimize your business listing.
Business Info
You can edit or update your business name, categories, address, service area, phone number and website. An updated, consistent and accurate business information helps to rank higher in search results.

Posts
Use the 'Create a Post' option from the Home page or 'Your Post' from the Menu tab to create and post content for your audience. The posts can be text, video or photos, which your customers will be able to see when they find you on Google Search. Use the Posts feature to create relevant and eye-catching content to increase user engagement.
Manage reviews
Responding in an appropriate and timely manner to customer reviews helps to raise your credibility and also your search rankings. Manage and respond to reviews in the 'Reviews' section in the Menu tab.

Insights
Insights is a very useful feature that gives you information on the behaviour of visitors to and the performance of your listing. The Insights features allows you to see
How customers search for your business.
The geographical areas from where customers search for your business.
The number of times your posts have been viewed.
The keywords used to find your business.
The activity of customers on your listing once they find it.
Notifications
You can get notifications of the latest activity on your listing without having to check your account every minute. You can choose and set the types of alerts that you want to receive for your account. You can set notifications for customer reviews, insights, posts, bookings, product updates, payments etc.
Chat with customers
This feature allows customers viewing your listing to message your directly so that you can respond to their queries instantly. This lets you connect instantly with your customers and share information, like quotes, booking requests etc.

Followers
Customers can choose to follow your business once they find your listing; the followers will get updates about your business. With this feature you can see your total number of followers as well as a list of recent followers.
Product Editor
You can add products through the Product Editor to appear in the Business Profile. All you need is to go the Products tab in Google My Business Dashboard, and click Add Products, create a product category, upload a photo and give a description. This feature is especially helpful for small and medium businesses.
Drive more business from local searches
Now that you've seen what the benefits of Google My Business are, you would have noticed one thing – Google wants to give searchers the best and most accurate information. It looks for businesses that have a consistent presence across the web. This includes local citations like listings and review sites. So, it's the information about your business that moves you up on the search results when people use Google. It is important that this information is as accurate, complete, and optimized as possible wherever it's being used.
Get The Computing Australia Group's help to manage your GMB listing. We'll build, maintain, and update your Google My Business. Add any special hours, offers, and promotions you provide, ultimately driving more calls, visits, and traffic to your business. We'll also monitor your customer reviews and help you stay on top of your online reputation and consumers' perception of your business. Do you want more traffic? Talk to our experts today or email us at sales@computingaustralia.group; let our experienced SEO team in Perth help you with it.
Jargon Buster
Local SEO: Search engine optimization aimed at improving your website rankings in local searches is called local SEO.
NAP: In business terms, NAP stands for Name, Address and Phone number of your business site.
Article originally published on 02/01/2020
Article updated on 04/06/2020 – Linked to The Computing Australia Group GMB page and Included the feature images.
Article updated on 23/02/2021 – General review and updated benefits of GMB section.