Keywords – The Complete Guide
Keywords are one of the primary factors of SEO. For implementing the right keyword strategies to improve your ranking, you need to understand every aspect of keywords. Our SEO experts bring you a complete guide on keywords that discusses keywords – from what they are to how and where to use them, and much more.
What is a Keyword?
In simple terms, it is a word that best portrays the essence of a post or web page. It is the search term that you want your webpage or post to rank for. Let's try to understand this with an example.
Let's say you are a web development company in Perth. You have a webpage or blog about your services and how they will benefit your customers. So now the next question is –
What are the terms you want people to use when they search for you?
Web development or web development services, right? Here your keyword is 'web development' – the word that represents the essence of your post at best. Such keywords are sometimes referred to as short-tail or broad term keywords.
When it comes to using keywords to target your audience, you need to be very careful. If your keywords don't match your potential audience's search terms, they won't find you in the SERPs. Using the wrong keywords will also lead to attracting the wrong audience. We will discuss this topic in detail later in this blog.
What is a Keyphrase?
A key phrase is a search phrase that best reflects the essence of your post or page. It is the phrase you want your webpage or post to be ranked for.
So, what's the difference between a keyword and a keyphrase? It's just that keywords are single terms while keyphrases are made of more than one word.
Taking the above example – the keyphrase will be 'web development company in Perth'.
As you will notice, a keyphrase describes a webpage better than a keyword. They also have a higher chance of ranking better. 'Web development services' is a vague term, and if you try to rank for it, chances are you'll get lost in the sea of websites trying to search for the term. Keyphrase is sometimes referred to as mid-tail keywords.
Read our blog on the Difference between Keyword and Keyphrase.
What are Long-tail Keywords?
As we saw above, keywords can be broad, which can make your page difficult to rank. So we use a particular combination of words to make it specific, and these are called long-tail keywords or keyphrases. Long-tail keywords specify the content of your post.
Continuing with the above example, let's say you are trying to rank for web development service for e-commerce companies – your keyphrase can be further refined to 'web development for e-commerce businesses in Perth'. As you can see, this keyphrase or long-tail keyphrase clearly expresses the page's content. Long-tail keywords can also reduce competition over keywords which gives you a better chance at ranking high.
Long-tail keywords play a crucial role in helping businesses to target their audience by PPC. The long-tail keywords have less competition, making the cost per click lower and affordable for businesses.
Learn more from our blog on what are long-tail keywords?
How to Choose the Right Keywords?
Here are some pointers you need to keep in mind while using keywords to target your audience.
1. Search intent of your audience
Understand the search intent behind each of their queries. The search intent can be different for different users. In the above example with 'web development', one user may be looking for a service provider, while another may be looking for educational courses on the subject. Understanding the search intent of your target audience and choosing precise keywords will help you build content to meet your user's requirements. Search intent is mainly of 4 types – transactional, commercial, navigational and informational. To know more about search intent, read our blog.
2. Do keyword research

Keyword research is the process of finding a list of specific keywords that you want your website or webpage to rank for. Keyword research will help you find the right keywords to help you stand out and rank high in SERPs. When you start to research for keywords, ask yourself these questions, What –
Is your mission?
Are your strengths and values?
Makes you unique?
Do you have to offer your audience?
Understanding the answers to these questions will help you generate unique keywords that will meet your user's intent.
3. Don't forget keyword density
Keyword density is the number of times a focus keyword appears in your text compared to that post's total content. It helps search engines identify the critical terms in the post, thereby significantly impacting ranking. Using the focus keywords naturally in your content will help the search engine pick up your post's essence. Search engines will show your page in results when your target audience searches for your keyword.
4. Be careful of keyword stuffing
The repeated appearance of keywords is good but be careful not to overdo it. Inserting keywords in the content to rank high in SERPs can lead to Keyword stuffing. This will affect your ranking negatively.
Read our blog to know more about choosing the right keywords.
5. Where to use keywords?
Now that you know how to choose keywords, the next step is to use them in the right places for maximum SEO benefit. Here are some of the best practices for using keywords in your content.
Incorporating images in a post or page will help engage and inform your visitors and make the page more visually pleasing. Adding keywords in image alt text will help to improve your page ranking for that particular keyword. Remember to keep the Image Alt texts short and crisp.
The Meta description is a simple summary of about 155 characters that describes your page's content. It displays under the SEO title and page URL in the search results. It helps Google to understand and filter your pages.
It is generally believed that Google gives importance to a post's first and last 200 words. This is because the post's introduction consists of the details about what is going to be discussed. The search engine looks for keywords in the introduction to find which keyword the post should be ranked for.
Likewise, the conclusion contains the summary of the article making the last 200 words also important for search engines. They use it in a similar way they do with the introduction. For this reason, try to include your primary and secondary keywords in the last or second last paragraph.
It would be best if you could include the keyword in your title. If you can't use the same keyphrase in your title, you can use variations that can still relate to the keyphrase.
Also, the HTML tags (H1s, H2s etc.) used to denote a page's headings will help Google identify the relevant contents in the post. Using primary and secondary keywords as headings will help you divide the content into a simpler format and emphasise the key points.
Use keywords in the SEO title tag; they are the title that appears in the SERPs when a user searches for your focus keyword. The SEO title tag will help the users and search engines understand what the page is about. The SEO title tags will direct the users to the page when clicked. Google reads both the title tag and meta description to understand what your page content is.
An anchor text link can help the user clearly understand that by clicking the link, they will get more information related to the keyword word it is linked to. It also allows Google to find the most relevant articles on your website. Avoid using your post's primary keyword for anchor text links since Google won't count the keyword on the current post and only look for it on the linked page. This will affect your post's ranking negatively in SERPs.
Hope this guide on keywords was helpful. Keywords or keyphrases are the foundation of SEO. You can rank high in search results if you clearly grasp your user's intent and the right keyword strategies. Need help with the right keyword strategy for your business? Reach out to us through our Contact page or email at sales@computingaustralia.group to get in touch with our SEO experts.
Jargon Busters
Keyword stuffing – A process of using keywords too frequently in the content, which makes it look unnatural.
Search term – the terms users enter the search engine tab while performing a search.
SERPs – Search Engine Results Pages are the webpages displayed by search engines in response to a user's search query.
Image Alt-text – is an HTML code that describes the appearance and function of an image on a webpage.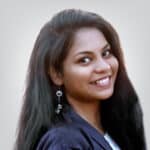 Vaikhari A